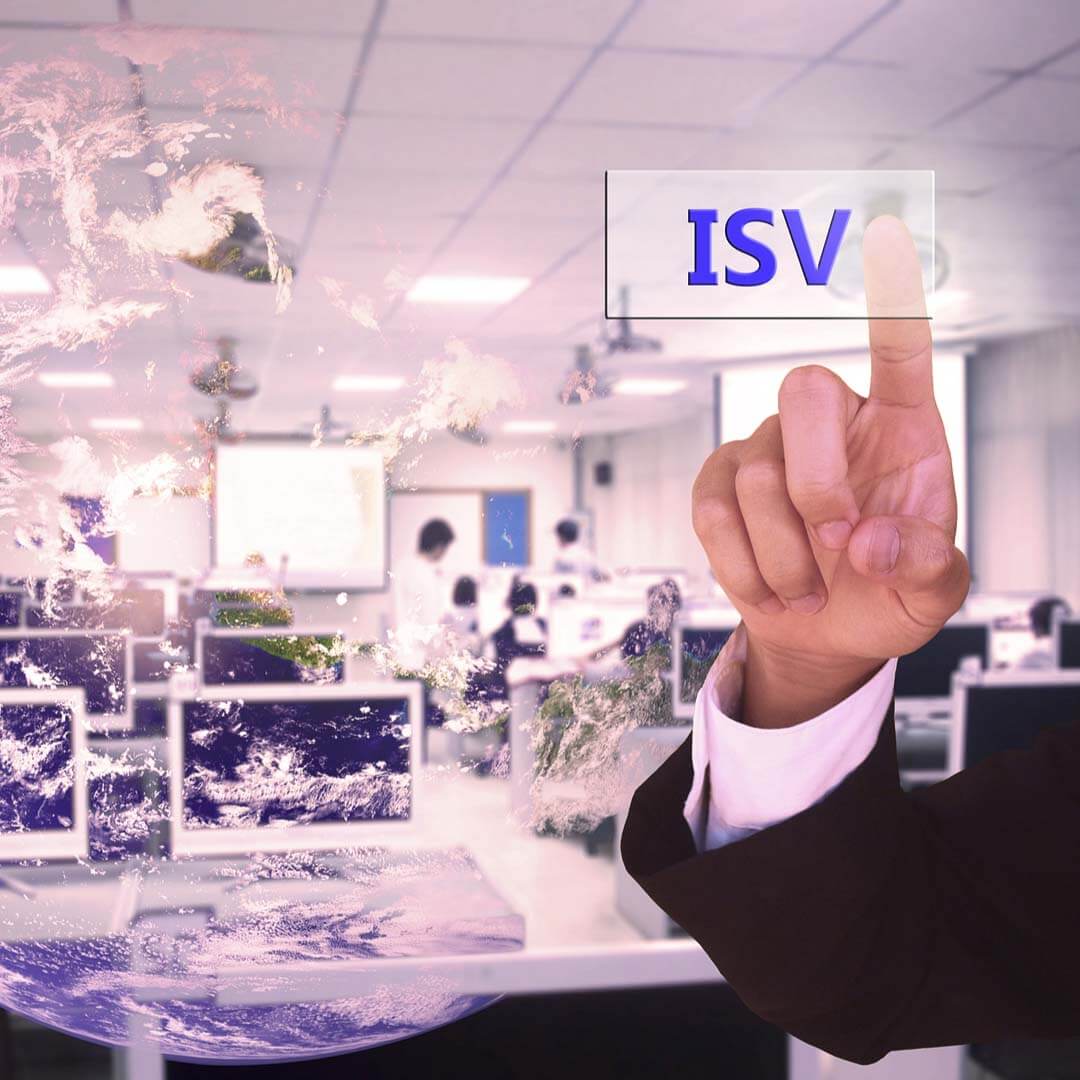 ISV SaaS – Transform Traditional Software Into Mobile Apps
Are you struggling to provide your customers with an affordable SaaS option for your software? Leading provider of ISV SaaS solutions, Parallels RAS, is a comprehensive virtualization tool that allows ISVs to host applications and securely publish them to remote devices centrally.
ISV SaaS – SaaS solutions are the future for ISVs
The advent of cloud computing technologies has completely transformed traditional business models, and Independent Service Vendors (ISVs) have not been excluded. Cloud solutions have become an inevitable option for ISVs as the ISV service model moves from a cloud-first to a cloud-only approach.
Gartner's analysis shows that it is hard for corporations to survive with a no-cloud policy in 2020 and beyond. The company predicts the SaaS market segment to grow to US$ 138.3 billion in 2022 from US$ 101.5 billion in 2020.
ISV SaaS: The state of the ISV industry
The ISV market is growing at a healthy pace. According to the analyst firm IDC, independent software vendors worldwide had revenue worth $284.9 million in 2014, making up 47.4% of the total worldwide market number for device and print management, the previous year. The worldwide cloud service market was valued at $48.8 billion in 2014.
The ISV SaaS model is growing nearly five times faster than traditional software delivery methods, with SaaS accounting for $1 of every $4.59 spent on software delivery. Gartner expected the SaaS market to reach $37.7 billion with a growth rate of 20.3% by the end of 2016, while IDC predicts that the SaaS market will be worth $112.8 billion by 2019.
Benefits of SaaS for Independent Software Vendors
ISVs want a cloud-only solution that can help them stay competitive, offer predictable revenue streams, and lower software maintenance costs. These are some of the benefits that SaaS models provide.
SaaS helps ISVs to remain competitive. A SaaS can help an ISV to reach broader markets and potentially increase revenue streams. An ISV can use the SaaS model to offer discounted prices to smaller organizations. Alternatively, an ISV can provide lower-priced apps in new geographical locations, potentially generating more sales revenue to remain competitive.
SaaS provides a more predictable revenue. The SaaS model provides a predictable revenue path by leveraging SaaS pricing schemes such as per-user per-month subscriptions or pay-as-you-go. This contrasts with traditional software licenses that are erratic.
SaaS lowers software maintenance costs. Instead of supporting individual software license instances for different customers, an organization can leverage a shared multi-tenant architecture. Under such a framework, an ISV only maintains a shared copy of the source code hosted in a cloud data center.
SaaS allows ISVs to sell their software directly to key decision-makers. In a traditional model, an ISV must go through the organization's IT department to sell its software. If the organization does not support the hardware and the software runs on, the IT department can thwart such requests. This contrasts with the SaaS model, whose applications run in the cloud. As such, it avoids issues such as hardware and software compatibility.
SaaS allows ISVs to harness the power of Big Data and Business Intelligence. Organizations can leverage Big Data and Business Intelligence (BI) to track user patterns and aggregate such metadata. This can help ISVs to optimize their service offerings and new revenue streams.
Customer value gained through SaaS ISVs
ISVs who offer SaaS delivers additional value to customers in the following sense:
Faster deployment of software. Rather than wait for days or weeks to deploy and configure the software on the organization's servers, customers can directly access the application in the cloud.
There's no need for on-premises resources. Since the application runs on the cloud, customers do not require costly hardware and specialized IT personnel to run and manage on-premise applications.
Customers pay only what they've used. Most SaaS offerings provide a subscription-based pricing scheme, where the customer only pays for what gets used. This contrasts with traditional software environments that estimate customers' needs for services they don't need or haven't used.
There are fewer financial risks involved. Most SaaS offerings allow the customer to test-drive the application before buying. As such, the customer gets sure of the software's business value before paying for it. The subscription-based pricing model is also less risky than the typically large upfront license fees in traditional software environments.
There is immediate access to innovative features. Customers can immediately absorb the advantages of innovative software features whenever the ISV updates or upgrades the application.
ISV SaaS: Challenges faced by ISVs
With innovation happening everywhere in IT, customers expect more from ISVs as well. However, delivering cutting-edge technologies and innovative features while dealing with shrinking budgets is a challenge for ISVs. ISVs also have to deliver legacy and Windows applications to a diversified audience that accesses the software using different platforms, operating systems, and devices. User experience is expected to be consistent across all devices, and speed and performance cannot be compromised. Moreover, applications should always be available and accessible from any device or location at any time. In a heterogeneous network, tracking resource usage for billing and invoice purposes is another challenge.
Moreover, there are several legacy software applications that would require a complete rewrite to suit modern technology, which means an organization has to spend 20-30% of the cost on the rewrite project. As IT technology is rapidly innovating, not all ISVs have the resources to realign business strategies. Competing with the flood of new ISV SaaS market entrants while dealing with limited resources is an additional challenge.
Desktop virtualization and application delivery provides a new platform for ISVs to optimize resources and deliver world-class technologies to stay ahead of the competition. A SaaS delivery model allows ISVs to offer a flexible pay-per-use model for a low-cost entry and low operational expenses. Moreover, the multi-tenant model increases margins as well.
Choosing the right application and desktop delivery solution
Cloud technology is innovating, and so are cloud providers, which can make it hard for ISVs to choose the right solution provider. The virtualization tool should be cost-effective and easy to use while delivering reliable performance and providing world-class features. Parallels Remote Application Server (RAS), VMware Horizon, and Citrix Virtual Apps (formerly Citrix XenApp) are the three leading providers of ISV SaaS solutions in the market. However, Parallels RAS outpowers both VMware and Citrix in terms of cost and ease of use.
Parallels RAS is a comprehensive virtualization tool that allows ISVs to centrally host applications and securely publish them to remote devices. The tool is easy to deploy and use. With Parallels RAS, software engineers don't have to rewrite any legacy applications. The IT team can centrally host the legacy application and seamlessly publish it to any device or platform with ease. Parallels RAS supports a range of devices, including Android, iOS, Mac, Chromebook, Linux, and thin client devices, anytime. Parallels RAS also supports HTML5 browsing, which means employees can access the remote application from any HTML5-enabled browser without downloading the RAS client.
In addition, Parallels RAS offers several reports to provide clear insights into resource usage for automated billing and invoicing tasks. The tool optimizes resources so initial investments and operational costs are significantly reduced, and the central dashboard simplifies IT management. Parallels RAS also offers an ISV Partner Program that aims to empower ISVs with special training and support. With best practices in place, ISVs can make the most out of the "ISV SaaS" model to stay ahead of the competition.
Want to learn more about the Parallels ISV Partner Partner Program? Find out the details here.
---
References
CloudTech|http://www.cloudcomputing-news.net/news/2016/may/20/how-enable-isv-community-cloud-computing/ 
Cisco| http://blogs.cisco.com/datacenter/top-10-isv-challenges-with-cloud-analytics-mobile-and-social-transformation 
InformationAge| https://www.information-age.com/road-isv-saas-are-vendors-prepared-challenges-123461438/ 
Parallels|https://www.parallels.com/blogs/ras/desktop-virtualization/ 
Parallels| https://www.parallels.com/blogs/ras/what-is-software-as-a-service/